Moon Shot – povratak na Mjesec u privatnoj režiji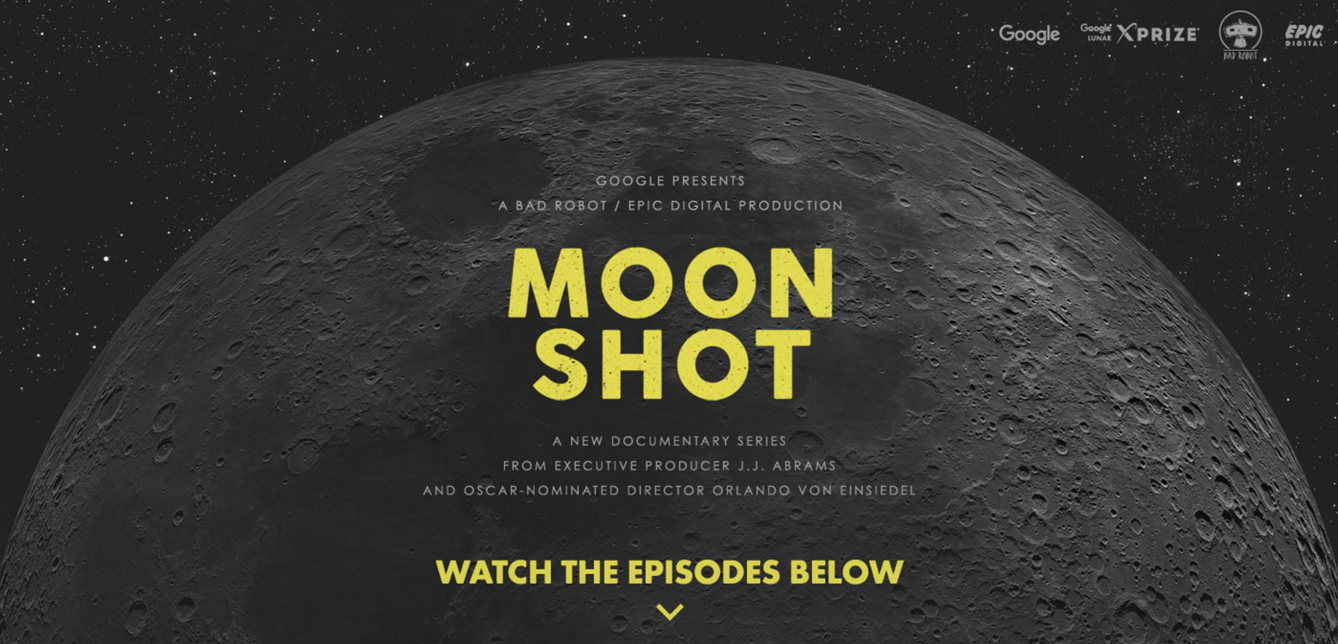 "16 timova. 370.300 kilometara. Jedan san." – tagline je serijala s pričama o timovima koji se natječu u sklopu Google Lunar XPRIZE, a koji u cijelosti možete pogledati na YouTubeu…
Posljednji čovjek koji je kročio površinom našeg prirodnog satelita Mjeseca bio je američki astronatu Eugene Andrew "Gene" Cernan tijekom misije Apollo 17 u prosincu 1972. godine. Na kraju trodnevnog boravka za površini Mjeseca, njegove treće svemirske misije, Cernan je izgovorio posljednje riječi čovjeka na Mjesecu – pune nade za skori povratak:
"Bob, this is Gene, and I'm on the surface; and, as I take man's last step from the surface, back home for some time to come – but we believe not too long into the future – I'd like to just (say) what I believe history will record. That America's challenge of today has forged man's destiny of tomorrow. And, as we leave the Moon at Taurus–Littrow, we leave as we came and, God willing, as we shall return, with peace and hope for all mankind. Godspeed the crew of Apollo 17."
I to je bilo – to.
Američka (ali i svjetska) javnost, već godinama sve manje i manje zainteresirana za NASA-ine uspjehe, ovom je trenutku poklonila minimum pažnje. Veliki troškovi NASA-inog svemirskog programa već godinama su bili na udaru budžetskih rezanja i prelijevanja, a i političke volje i motivacije za svemirska istraživanja je bilo sve manje. NASA će s godinama doživjeti drugu mladost s programom Space Shuttle, kasnije će se svemir nastanjivati iz niske orbite u Internation Space Stationu, tu i tamo stidljivo najavljivati Mars kao idući cilj… Ali, to je u osnovi bilo to što se tiče čovjeka na Mjesecu u režiji NASA-e i drugih nacionalnih svemirskih agencija…
Začeto još "davne" 2007. godine, Google Lunar XPRIZE je natjecanje koje ima za cilj potaknuti privatno istraživanje svemira i na poduzetničkoj bazi učiniti ono za što nacionalne svemirske agencije posljednjih tridesetak-četrdesetak godina nemaju planova i interesa (manje) odnosno mandata i sredstava (veći razlog).
Nagradni fond XPRIZE od 30 milijuna USD će se dodijeliti timovima koji uspješno spuste privatno financirani rover na Mjesec, njime prijeđu 500 metara i odašilju na Zemlju sliku u HD razlučivosti. Preciznije, prvi tim kojem ovo pođe za rukom dobit će 20 milijuna USD, dok će drugi tim osvojiti 5 milijuna USD. Kako bi pokupili nagradu, timovi će morati dokazati kako je barem 90% njihovih sredstava dolazi iz privatnih izbora. Isto tako, timovi imaju vremena do kraja ove, 2016. godine da objave kako imaju verificirani ugovor za lansiranje, te da samu misiju na Mjesec obave do kraja 2017. godine.
No, poanta Google Lunar XPRIZE nije u osvajanju novca – naprotiv, osim izravnog financijskog učinka, samo XPRIZE natjecanje je tu da pomogne timovima skupiti i zadržati interes financijera i javnosti kako bi što lakše ostvarili misiju.
Stoga je prije par tjedana na YouTubeu osvanuo serijal Moon Shot, izvršnog producenta J.J. Abramsa koji u svojih 9 kratkih epizoda priča priče o Google Lunar XPRIZE timovima iz SAD-a, Njemačke, Indije, Kanade, Japana, Izraela i Meksika.
Sve epizode ovog serijala možete pogledati na YouTubeu ako kliknete na ovaj link na kompletnu playlistu… u ukupno sat vremena možete doživjeti i proživjeti sve što ove male timove pokreće i goni da postignu ono što se čini nemogućim.
Uzgred, jedan od timova koji se natječu za XPRIZE bi vam mogao biti posebno zanimljiv – TEAM SYNERGY MOON pun je imena s ovih prostora.
Jedan od osnivača tima je rođeni Sarajlija Nebojša Stanojević, a među team leadovima – kao Exploration Director – je u hrvatskom (ne samo) IT svijetu legendarni Miroslav Ambruš-Kiš.